Dear xibo support,
my setup is:
12 monitors in one row on hockey stadium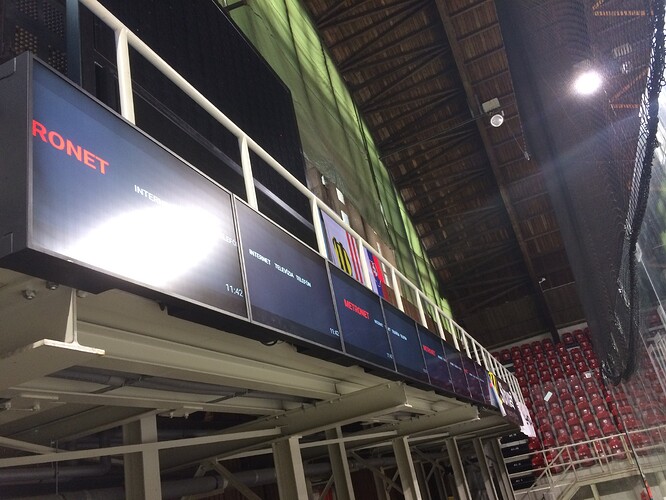 I need to public simple rolling text arround the all displays.
At this time i have all displays connected and working with xibo adroid boxes, communication working fine.
My problem is with use of whole setup as one display area.
I have configured
Resolution - 15360x720 (its area of this displays 12x1280, the displays max resol is 702p)
Created layout for this resolution
https://www.anony.ws/image/JAfo
height="91">
All 12 displays have in same display group
Stadion-01-Android android 1.7 60
Stadion-02-Android android 1.7 60
Stadion-03-Android android 1.7 60
Stadion-04-Android android 1.7 60
Stadion-05-Android android 1.7 60
Stadion-06-Android android 1.7 60
Stadion-07-Android android 1.7 60
Stadion-08-Android android 1.7 60
Stadion-09-Android android 1.7 60
Stadion-10-Android android 1.7 60
Stadion-11-Android android 1.7 60
Stadion-12-Android android 1.7 60
Next im trying to "Schedule Now" with created layout and target of created 12 display group, and still the picture is small text with 15360 sized to 1280 indidualy displayed.
I'm doing something wrong?
CMS Version 1.7.6
Latest Android clients in 14 days trial mode