Hey,
I have been using Xibo for almost a year now, with great satisfaction.
But now I have some problems with the following:
On (local) a website, there is content shown. Every time this content changes, with jQuery a sound is played.
And this site, I would like to show on a layout. This is easily done with "webpage" in the timeline editor.
But, the sound isn't played! What can I do to make this happen?
(It's used for a ticketing system, where every time a new ticket of a customer is called-in by an employee, the ticket and desk is shown on the webpage, accompanied with a short notification sound).
Xibo Player: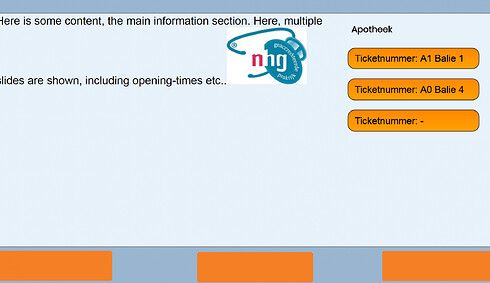 On the right, we have the webpage, while on the left, we have just our regular slideshow.
So every time the next ticket is summoned, a notification should be heard and the top bar is updated with the newest ticket. In the browser, this sound is played, but when implemented in Xibo, it doesn't. What can I do to make this happen?
Information: Xibo 1.8.2
Used with Docker
Xibo Player 1.8.2
Used on Intel Compute Stick, running windows 10
If more is needed, please let me know!
Thanks in advance!
Vincent