Hi, I have this issue where the error "User not found" appears and prevents me from editing my current displays.
I am running Xibo 2.2.0, but the error was also present in version 2.1.2. please see the screenshot.
This is getting more urgent every day, since I can no longer service any of my 70+ displays. Please advice.
edit: added debug info from log, and updated to 2.2.1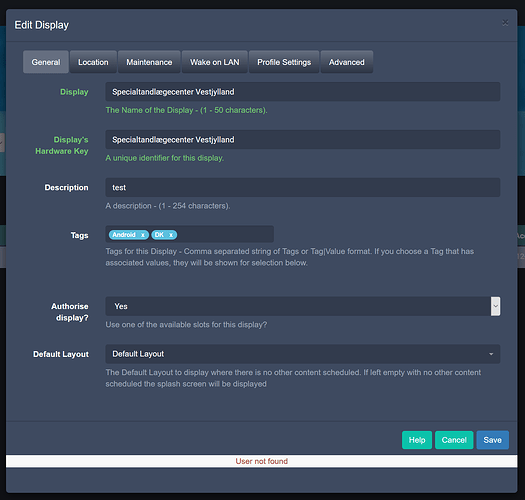 User not found#0 /var/www/cms/lib/Factory/BaseFactory.php(153): Xibo\Factory\UserFactory->getById(2) #1 /var/www/cms/lib/Factory/DisplayFactory.php(272): Xibo\Factory\BaseFactory->viewPermissionSql('Xibo\\Entity\\Dis...', '\n ...', Array, 'displaygroup.di...', NULL, Array) #2 /var/www/cms/lib/Entity/DisplayGroup.php(833): Xibo\Factory\DisplayFactory->query(Array, Array) #3 /var/www/cms/lib/Entity/DisplayGroup.php(700): Xibo\Entity\DisplayGroup->manageDisplayLinks(true) #4 /var/www/cms/lib/Entity/Display.php(670): Xibo\Entity\DisplayGroup->save(Array) #5 /var/www/cms/lib/Controller/Display.php(1153): Xibo\Entity\Display->save() #6 [internal function]: Xibo\Controller\Display->edit('35') #7 /var/www/cms/vendor/akrabat/rka-slim-controller/RKA/Slim.php(79): call_user_func_array(Array, Array) #8 [internal function]: RKA\Slim->RKA\{closure}('35') #9 /var/www/cms/vendor/slim/slim/Slim/Route.php(468): call_user_func_array(Object(Closure), Array) #10 /var/www/cms/vendor/slim/slim/Slim/Slim.php(1355): Slim\Route->dispatch() #11 /var/www/cms/vendor/slim/slim/Slim/Middleware/Flash.php(85): Slim\Slim->call() #12 /var/www/cms/vendor/slim/slim/Slim/Middleware/MethodOverride.php(92): Slim\Middleware\Flash->call() #13 /var/www/cms/lib/Middleware/Actions.php(150): Slim\Middleware\MethodOverride->call() #14 /var/www/cms/lib/Middleware/Theme.php(36): Xibo\Middleware\Actions->call() #15 /var/www/cms/lib/Middleware/WebAuthentication.php(131): Xibo\Middleware\Theme->call() #16 /var/www/cms/lib/Middleware/CsrfGuard.php(63): Xibo\Middleware\WebAuthentication->call() #17 /var/www/cms/lib/Middleware/State.php(121): Xibo\Middleware\CsrfGuard->call() #18 /var/www/cms/lib/Middleware/Storage.php(48): Xibo\Middleware\State->call() #19 /var/www/cms/lib/Middleware/Xmr.php(37): Xibo\Middleware\Storage->call() #20 /var/www/cms/custom/XiboForLinuxMiddleware.php(46): Xibo\Middleware\Xmr->call() #21 /var/www/cms/vendor/slim/slim/Slim/Slim.php(1300): Xibo\Custom\XiboForLinuxMiddleware->call() #22 /var/www/cms/web/index.php(127): Slim\Slim->run() #23 {main}