CMS Version
Xibo Digital Signage Version 2.3.7
Player Type
Linux
Player Version
1.8-R6 Code Version 108
Issue
I created a default layout that I would like to play indefinitely while the playlist is empty. While the playlist is filled I would like to show said layout for 10 seconds each time before the playlist restarts after it ran through.
The layout in question is a logo and, below that, the digital clock with hours and minutes.
I found one kinda solution which was to pack the playlist in a separate layout, set the duration of the default layout to 10 seconds and run both of them via a campaign.
My problem is that while the default layout does show indefinitely while the playlist is empty, there is a visible reload after 10 seconds which makes the clock "blink". That´s what I´m trying to get rid of.
I tried another layout where I merged both layouts. I display the logo and clock with a spacer of 10 seconds running one level above them. After the spacer runs out, I display the playlist. This works fine so far but it has the annoying "blink" after 10 seconds.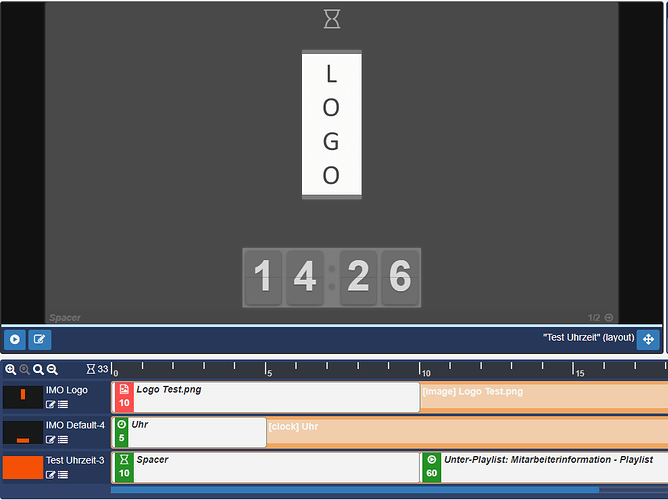 I tried adding another level with a spacer of 1 minute or longer, but the length of the playlist varies depending on how long the PDFs are and how many there are of them. Setting a 1 minute spacer works fine for a 20 second PDF (10 secs clock + 20 secs PDF x2) but a 30 second PDF is cut off in it´s second run.
Any tips for me on how to do this?