Dear Support,
I am facing an interesting problem, My Layout is working and receiving following error after around 12-24 hours.
4815842 17-03-27 09:11:22 Display Client DisplayManager Default Layout failed: canRun Test
4815841 17-03-27 09:11:22 Display Client DisplayManager Cannot set the next Layout from the Schedule. Schedule Invalid
If I restart the Android MINX Box, it will work again for another 12-24 hours.
After the estimated time, the Xibo Server writes that error in the log output and the screen becomes black with the xibo logo.
I am using following software versions:
Xibo CMS: 1.7.9
Android Client: R62
Client Status: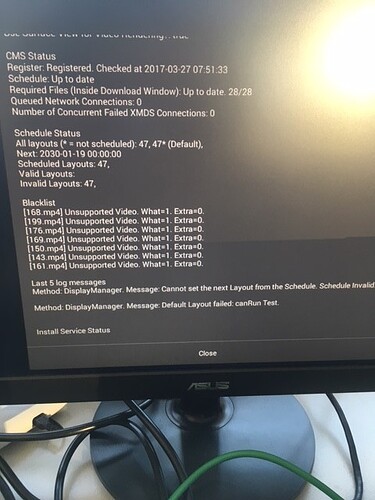 As I can see, the mp4 Files are being blacklisted.
What I don't understand is, it is blacklisting after 12hours, since when I restart the Android Box it works fine for 1day.
I have checked the current Time & Timezone.
It is exact the same, as it is on the server.
Any assist would be great.