Hello Xibo community.
I am using Xibo 1.8.0-beta and I'm trying to embed some news from different media sites via RSS feed.
With most of the sites it works perfectly well. But if there's a feed with parameters in the url, the news posts do show up in the layout window but if I try to start the preview, everything stays black. Weird about this thing is, that Xibo tells me that this layout is ready to be played.
Here is one example feed that causes this problem:
As you can see, this feed has a lot of parameters in its URL. I guess this problem has someting to do with this fact.
Here are two screenshots that illustrate how the feed is loaded in layout edit mode and the blackscreen when starting the preview: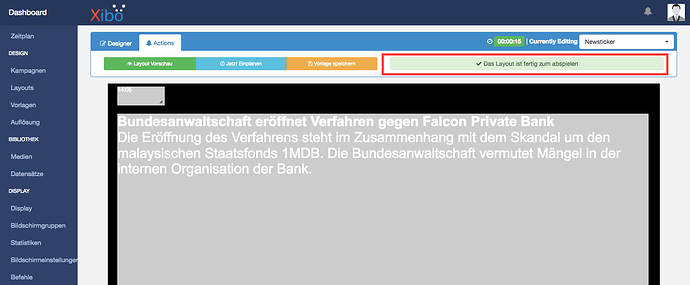 Blackscreen (as URL because I can't put more than one image into the post)
Is there anything I can do tho get this layout running in preview too?
Any help is appreciated. Thank you!