CMS Version
Cms 2.3.8
Installation Method
Docker-compose on linux
Operating System
Centos 7
Issue
Hello,
i installed xibo 2.3.8 on centos 7 via docker-compose.
However, Windows Player does not download the multimedia content. Download htm files only. The other files are not considered.
I also found that the default layaout does not find any components, such as the default image and in the path / share / cms / library / wideget the folders are missing.
I tried to verify the modules but did not solve the problem.
Pressing the "i" button on the player displays an invalid layaut id: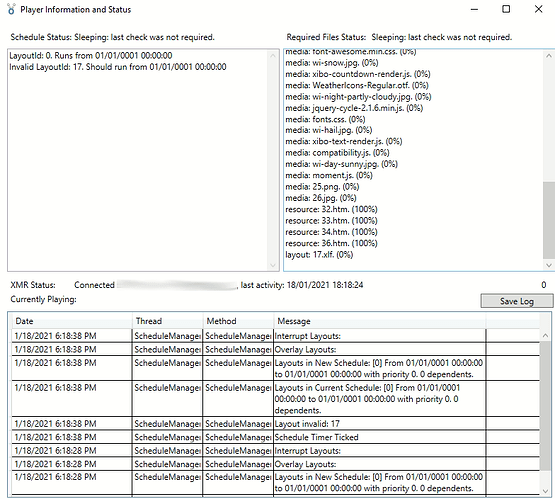 As mentioned, the default layaut is compromised, so I loaded another layaut by exporting it from the test environment, assuming the problem was missing files. The upload to the cms is successful, but the reader still downloads 4 files and displays the invalid layout ID message.
What does the failed download depend on?
Is it possible to restore the default layout?
The player is registered correctly and XMR works too.
This is a machine with iptables configured.
No anomalies were found in the test environment.
Thank you for your support.
Sorry for my English