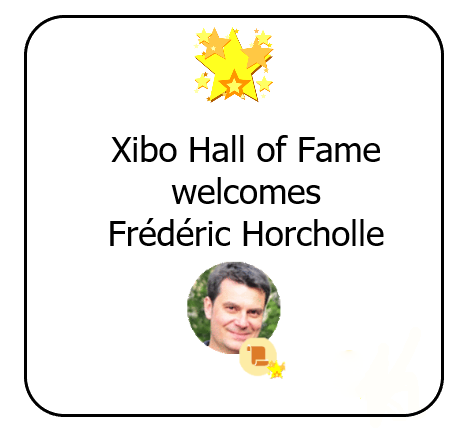 I am excited to introduce our third member to be awarded the Xibo Enthusiast badge, Frédéric Horcholle and welcome him to join the Xibo Hall of Fame.
"Hello community, I am Frédéric HORCHOLLE, I am French. I started computer science at the age of 11. I created my IT services company 22 years ago.
I like to invest in open-source projects, and it's my first reflex when I look for a solution. That's how I came across the XIBO project in 2014 with version 1.4 for a project. I have seen the Xibo community and the team grow, the features evolve with the requests.It is in this atmosphere that naturally I take pleasure in intervening in this project. Thanks to all the team for the quality of this product." Frédéric Horcholle
@frederic_Horcholle joined the community back in 2016 and ever since has played an active role in providing support and learnt knowledge to the wider Xibo Community.
We again thank Frédéric for his support with the Xibo project and for being a very valued community member.
It's fantastic to see community members stepping up to assist where they can and I am delighted that we close out of 2022 with 3 fantastic Xibo Enthusiasts added to our Xibo Hall of Fame with hopefully more enthusiasts to be added in 2023!
Best wishes for the new year to you all.
Natasha