Before completing please check that the time, date and timezone have been correctly set on the device running the Player.
Check!
Player Version
windows 3 R301.1-301
Issue
I have a layout with the RSS widget. We get the RSS feed for a customer from the official news distribution service in Austria. It is a paid service and the feed is customized for our client, so I can't post the link, but I can assure you that it works (99.99% reliable).
Often the newest posts show the text and category correctly but the image (which every post has one) doesn't show up, at least for one loop (mostly longer). I have figured out the core of the problem but not the reason or a solution: It is because the image(s) don't get downloaded (for some time). I have more test systems running and when one shows the picture and another don't I can compare the ticker_[hash] files in the lib-folders and can see that the missing picture just isn't downloaded. Then I immediately tried the RSS feed and the links to the missing pictures (always the newest ones) on my PC and they always worked just fine and fast.
I have looked for differences in the pictures but all gets preprocessed for us from the agency (same size/resolution, codec, encoder settings) so there are none. I have played with the caching settings and it seams with lower (or synchronized) intervals maybe it get's a little better, but that's not a solution (First I have 5/240 for refresh and image refresh, then i synced them and tried 60/60 and 15/15).
Here are all my settings: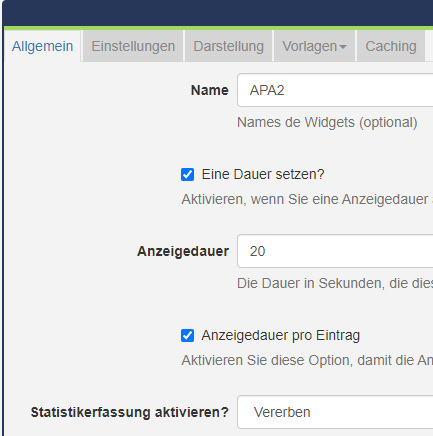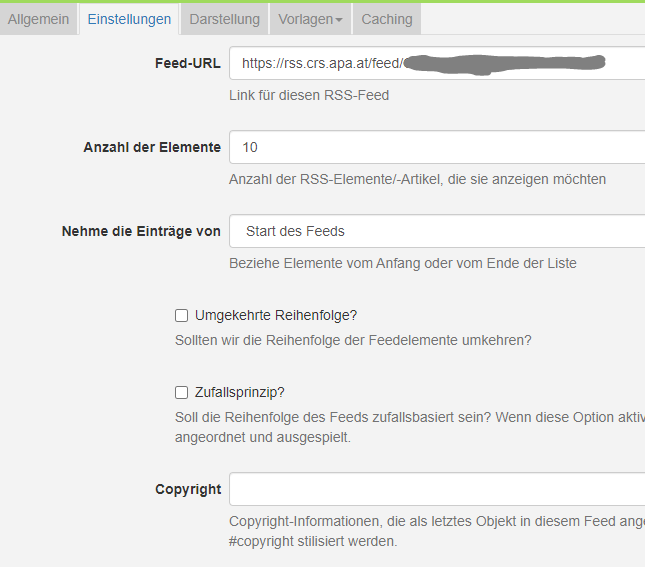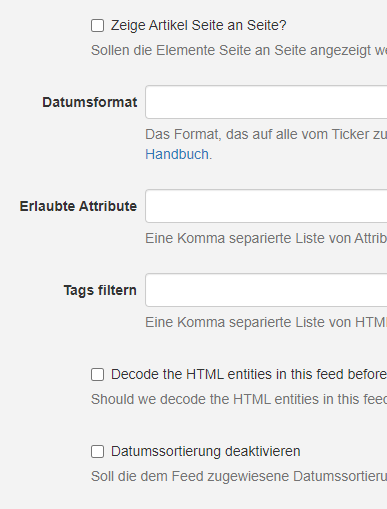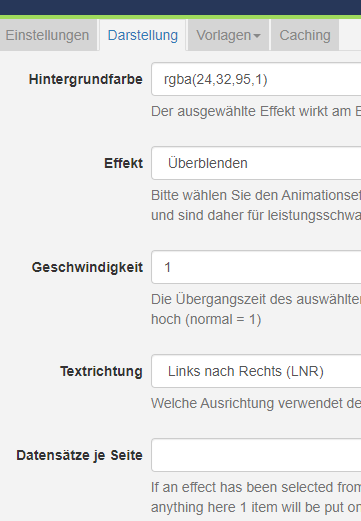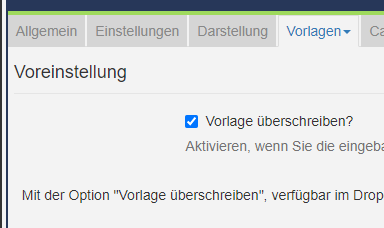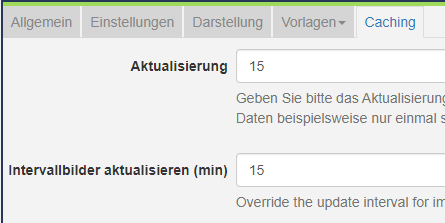 And here my design (if it basically can influence the download of the images?):
<div class="col1">
<div class="image">[Link|image]</div>
<div class="cat">[category|]</div>
</div>
<div class="col2">
<h1>[Title]</h1>
<div class="description ">[Description]</div>
</div>

.image img {
  width: 90%;
  max-height: 77%;
  position: absolute;
  left: 8%;
  top: 10%;}

.cat {
  font-size: 150px; 
  font-weight: bold;
  text-align: left;
  color: lightblue;
  line-height: 0.75;
  position: absolute;
  bottom: 0;
  opacity: .7;}

.col1{color: white;
  position: absolute;
  bottom: 0;
  width: 40%;
  left: 0;
  height: 100%;}

.col2{color: white;
  position: absolute;
  bottom: 0;
  width: 60%;
  left: 40%;
  height: 100%;}

h1 {
  font-family: Arial, Verdana, sans-serif; 
  font-size: 70px; 
  padding-top: 8%;
  padding-left: 5%;
  padding-right: 5%;
}

.description {
  font-family: Arial, Verdana, sans-serif;
  font-size: 56px; 
  position: absolute;
  top: 50%;
  padding-left: 5%;
  padding-right: 5%;}

<span style="font-size: 48px; color:#ffffff;">No Data returned from the source</span>

var i = 0;                         // Counter for typewriter functions
var txtH = '';                    // intermediate storage of heading text
var txtHOld = 'dummy';   // previous heading text (to detect new page)
var txtD = '';                    // intermediate storage of description text
var txtDOld = 'dummy';   // previous description text (to detect new page)
var speedH = 25;            // Speed for heading typing (ms delay between letters)
var speedD = 12;            // Speed for description typing (ms delay between letters)
var typed = true;              // finished typing (page complete)

// observed Node: '#content'(contains the seperate slides)
var target = document.querySelector('#content');
 
// Observer function (executed everytime '#content' or a child of it changes
var observer = new MutationObserver(function(mutations) {
    var heading =  document.getElementsByClassName("cycle-slide-active")[0].getElementsByTagName("h1")[0];
    var descr =  document.getElementsByClassName("cycle-slide-active")[0].getElementsByClassName("description")[0];
    if(typed) {        // save texts of the new slide
      txtH = heading.textContent;
      txtD = descr.textContent;
    }
    if (txtH != txtHOld && txtD != txtDOld) {       // check if new slide is active
       typed = false;
       // clear Heading and Description
       heading.textContent = "";
       descr.textContent = "";
       // replace category abreviation with actual category name
       setCat(document.getElementsByClassName("cycle-slide-active")[0].getElementsByClassName("cat")[0]);
       i=0;
       txtDOld = txtD;
       txtHOld = txtH;
       // start typing the heading in 1000ms
       setTimeout(typeWriterH1, 1000);
  }
});
 
// Configuration of the Observer: report changed attributes, subtree and data
var config = { attributes: true, subtree: true, characterData: true };
 
// start Observer with given target node and config
observer.observe(target, config);

// replaces the abbreviation with the actual category in the given tag
function setCat(catTag) {
  var cat = catTag.innerHTML;
  switch(cat) {
    case "AA":
    case "II":
      cat = "Politik";
      break;
    case "CA":
    case "CI":
      cat = "Chronik";
      break;
    case "SA":
    case "SI":
      cat = "Sport";
      break;
    case "KA":
    case "KI":
      cat = "Kultur";
      break;
    case "WA":
    case "WI":
      cat = "Wirtschaft";
      break;
    default:
      cat = "";
      break;
  }
  catTag.innerHTML = cat;
}

// writes letter by letter of the heading, by being called periodically every speedH ms and adding a span-tag that makes the text that is not visible yet transparent
function typeWriterH1() {
  var  h1Tag = document.getElementsByClassName("cycle-slide-active")[0].getElementsByTagName("h1")[0];
  if (i < txtH.length) {
    // print the first i letters
    h1Tag.innerHTML = txtH.substring(0,i+1);
    i++;
    // skip spaces
    if (txtH.charAt(i) == ' ') {
       h1Tag.innerHTML += txtH.charAt(i);
       i++;
    }
    // add remaining string in a span Element that is set transparent
    var transSpan = document.createElement('span')
    transSpan.style.opacity= 0;
    transSpan.innerHTML = txtH.substring(i,txtH.length);
    h1Tag.appendChild(transSpan);
    // call the function again in speedH ms
    setTimeout(typeWriterH1, speedH);
  } else {        // heading is printed completely, start typing description
     i = 0;
     typeWriterD();
  }
}

// writes letter by letter of the heading, see above
function typeWriterD() {
  var  desTag = document.getElementsByClassName("cycle-slide-active")[0].getElementsByClassName("description")[0];
  if (i < txtD.length) {
    desTag.innerHTML = txtD.substring(0,i+1);
    i++;
    if (txtD.charAt(i) == ' ') {
      desTag.innerHTML += txtD.charAt(i);
       i++;
    }
    var transSpan = document.createElement('span')
    transSpan.style.opacity= 0;
    transSpan.innerHTML = txtD.substring(i,txtD.length);
    desTag.appendChild(transSpan);
    setTimeout(typeWriterD, speedD);
  } else {
     i = 0;
     typed = true;
  }
}