CMS Version
I'm unsure of where to find this information. I am running Xibo 2.35, but cannot find the revision number.
Player Type
Windows
Player Version
Xibo client V2 R254.1(Windows)
Issue
I'm brand new to Xibo and digital signage in general, so bear with me.
I've completed some of the tutorials and done a bit of searching but cannot find the answer to my question. Maybe I'm looking with the wrong terms, but here's what I need:
I have Xibo running on a virtual machine on a server through Hyper-V. No problems there, I can log into the web portal and get my media/layouts displayed on the clients.
What I need is a way for my end users to quickly modify what is displayed in a content region(the top ticker region in the screenshot I've attached, to the right of "Please come to the Trustee's Office for your No-Contact meeting". I have a layout for calling customers from the waiting room to the contact-limited meeting room. What I really need is an input webpage with some editable text boxes, or a text file in a directory I can modify on the server and have them displayed.
I modified the default template as a temporary setup, and will cleanup the layout and resolve wording and placement with the client once I can verify functionality.
This is for a trustee's office trying to maintain social distancing for COVID. The issue for me seems to be how to allow my user to quickly change a number in a pre-setup region, without access to anything else in Xibo.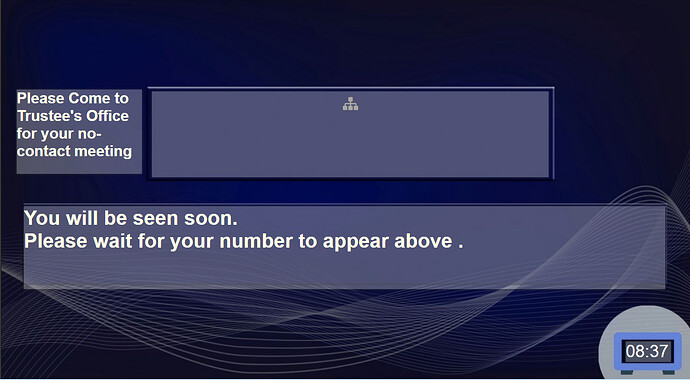 Is this possible?