CMS Version
2.3.4
Player Type
Windows 2 R252.6-252
Issue
If you navigate to the Library > Media section in CMS, the page stays empty (see screenshot).

But the library is filled with images, all uploaded in previous CMS versions.
This also occurred in previous CMS versions (at least since 2.3.0).
But when a layout is edited to include an image, choosing the library, the images are shown (see second sreenshot).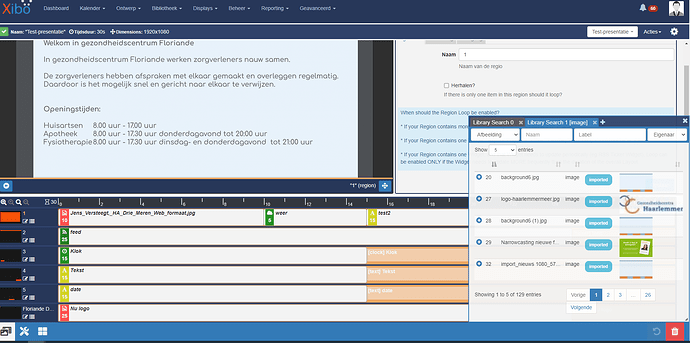 What is causing this? I have run the debug-mode and have a zip-file containing the information if needed.
A small section of the log includes an error-message of syntax errors.
1862,751b0cf,"2020-06-02 10:06:24",WEB,/library,GET,"SQLSTATE[42000]: Syntax error or access violation: 1064 You have an error in your SQL syntax; check the manual that corresponds to your MySQL server version for the right syntax to use near 'LIMIT 0, 10' at line 29#0 /var/www/cms/lib/Storage/PdoStorageService.php(278): PDOStatement->execute(Array)
#1 /var/www/cms/lib/Factory/MediaFactory.php(776): Xibo\Storage\PdoStorageService->select('\n            SE...', Array)
#2 /var/www/cms/lib/Controller/Library.php(532): Xibo\Factory\MediaFactory->query(Array, Array)
#3 [internal function]: Xibo\Controller\Library->grid()
#4 /var/www/cms/vendor/akrabat/rka-slim-controller/RKA/Slim.php(79): call_user_func_array(Array, Array)
#5 [internal function]: RKA\Slim->RKA\{closure}()
#6 /var/www/cms/vendor/slim/slim/Slim/Route.php(468): call_user_func_array(Object(Closure), Array)
#7 /var/www/cms/vendor/slim/slim/Slim/Slim.php(1355): Slim\Route->dispatch()
#8 /var/www/cms/vendor/slim/slim/Slim/Middleware/Flash.php(85): Slim\Slim->call()
#9 /var/www/cms/vendor/slim/slim/Slim/Middleware/MethodOverride.php(92): Slim\Middleware\Flash->call()
#10 /var/www/cms/lib/Middleware/Actions.php(150): Slim\Middleware\MethodOverride->call()
#11 /var/www/cms/lib/Middleware/Theme.php(36): Xibo\Middleware\Actions->call()
#12 /var/www/cms/lib/Middleware/WebAuthentication.php(131): Xibo\Middleware\Theme->call()
#13 /var/www/cms/lib/Middleware/CsrfGuard.php(63): Xibo\Middleware\WebAuthentication->call()
#14 /var/www/cms/lib/Middleware/State.php(121): Xibo\Middleware\CsrfGuard->call()
#15 /var/www/cms/lib/Middleware/Storage.php(48): Xibo\Middleware\State->call()
#16 /var/www/cms/lib/Middleware/Xmr.php(37): Xibo\Middleware\Storage->call()
#17 /var/www/cms/vendor/slim/slim/Slim/Slim.php(1300): Xibo\Middleware\Xmr->call()
#18 /var/www/cms/web/index.php(127): Slim\Slim->run()
#19 {main}",,DEBUG
1863,95abe3a,"2020-06-02 10:06:24",WEB,/user/pref,POST,"Request stats: {
    "default": {
        "select": 6,
        "insert": 1,
        "commit": 1
    },
    "log": {
        "insert": 5
    },
    "length": 1.0055618286132812,
    "memoryUsage": 13697936,
    "peakMemoryUsage": 13753320
}.",,INFO
1864,751b0cf,"2020-06-02 10:06:24",WEB,/library,GET,"SQLSTATE[42000]: Syntax error or access violation: 1064 You have an error in your SQL syntax; check the manual that corresponds to your MySQL server version for the right syntax to use near 'LIMIT 0, 10' at line 29 Exception Type: PDOException",,ERROR
1865,751b0cf,"2020-06-02 10:06:24",WEB,/library,GET,"Request stats: {
    "default": {
        "select": 4
    },
    "log": {
        "insert": 6
    },
    "length": 0.9814419746398926,
    "memoryUsage": 13435600,
    "peakMemoryUsage": 13667824
}.",,INFO