There are two types of upgrade to Xibo for Android:
An upgrade to a later revision of the same version
An upgrade to a later version
The difference between a revision and an upgrade can be seen in the name of the release - consider "Xibo for Android v1.7 r58" as an example. The version is 1.7 and the revision is 58.
Upgrading your revision
When we release a new revision to your version of Xibo for Android (eg 1.7 R59 to 1.7 60), we do so because we have fixed bugs or implemented some feature improvements for you to try. Upgrading to a new revision is very simple, just follow the instructions in the downloading section below.
Upgrading your version
When we release a new version (eg 1.7 R64 to 1.8 R102), it is usually considered a major upgrade and contains some new advancements of functionality. Therefore we operate from a new version identifier in the customer portal and reset your licence pool of that version to 0 licences. Depending on the time you purchased your licences you may have been provided with a number of "Upgrades" which can be used to go to the new version.
This can be seen on your licence pool page in the My Products -> Android licencing
For existing connected devices - just install new apk version on them. Your licence will upgrade automatically using the old licence and one of your upgrade tokens.
For new devices - Purchase upgrade to new version OR if you have more upgrades available than existing devices then just install new apk version on your device - upgrade will happen automatically.
If you don't have updates available you can click "Purchase Upgrades" to buy upgrades to new version (1.8) for 4GBP+VAT(if applicable) per licence.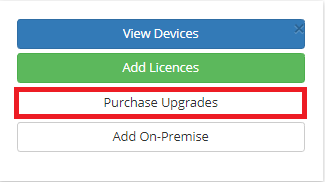 Installing Updates
The latest APK for your version of Xibo for Android can be downloaded from our website or from the Xibo Download Centre. If you are a white label customer, the latest APK can be built and downloaded from the customer portal. White Label customers that have selected the "Latest" version for their build only need to download as the latest release will have been pre-build for you.
Manual Update on Non-rooted devices
The majority of users will be running on a non-rooted device. For these devices please download the APK onto your device, or alternatively transfer it to the device using the same method you used for installation. Once the file is on the device, select it to launch the upgrade. A box will appear informing you that the app you're about to install will replace an existing application:

Press "OK" to allow the upgrade to complete.
Once the upgrade has finished, launch Xibo for Android in the normal way.
Auto-update on Rooted Devices or DSDevices Hardware
A device that has root access can make use of the auto-update functionality within Xibo for Android which is available from 1.7 R53 and above. If you are running a revision lower than 53, please refer to the non-rooted device instructions.
A rooted device must be configured for automatic update as described in the Installation Guide.
Auto-update is managed from the CMS.
Note for DSDevices hardware users: Assuming you have previously installed the DSDevices Xibo for Android 1.7 R60 or later version on your DSDevices hardware then you can follow these instructions to upgrade as if the device were rooted. You cannot upgrade from earlier versions of Xibo for Android on DSDevices hardware via this method. You will need to uninstall the version you already have, and then install the DSDevices specific version of Xibo for Android available from the Spring Signage download centre in that case. Your licence will transfer across automatically. If you are upgrading a DSDevices DSCJ18 or DSCJ19 system which is running the DSDevices specific version of Xibo for Android 1.7 R60 or later, then you must be sure to upgrade it with a newer Xibo for Android version designed for DSDevices DSCJ18 and DSCJ19 systems. You cannot upgrade with the standard Xibo for Android APK of the same or later version. If you are upgrading a DSCS9, then you should use the standard Xibo for Android release and not the ones specific for the DSDevices DSCJ18 and DSCJ19 Players.
Uploading a new APK
New APK files are uploaded to the CMS Library in the same way as other media files.
Selecting the desired version
Once the APK is uploaded to the CMS, it is necessary to assign it as the currently requested version. This is done using the "Version Information" sub-menu item on the Action menu of each Display Group / Display. The following form presents itself:
Xibo will list the current version information for each device and provide a drop down list of the available files. Selecting one and clicking save will set that as the requested version for the Displays listed.
Files can be assigned for many reasons and this secondary step is a security measure to ensure that only the desired files are actually installed.
What happens during the update window?
Assuming everything has be configured correctly, during the update window Xibo will check with the CMS for a new application and if one is found will:
Stop Xibo for Android
Install the new APK
Restart Xibo for Android
After update
After an update you can check the devices current version in the CMS using the Version Information window discussed above.