Hello!
I'm new here so my apologies if this is in the wrong place at all.
We current have two events set up in scheduling; they are set to "always" and they alternate between the two perfectly fine.
I have created a daypart with the start time and end time (I can only upload one image per post but it is set for 10:07 to 10:10).
I then create an event in the schedule for this display with the start time being today, the layout being the new layout I have created and the dayparting being the day part I created previously.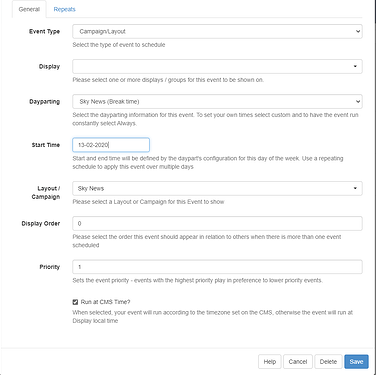 I know our displays are off by about 1 or 2 minutes so I set it to "Run at CMS Time" (Which is set to the correct london timezone) and the priority to "1" (The always schedule is set to "0").
I then run Xibo Player Options and click save to make sure the display it up to date with the CMS. 10:07 comes around but it never appears. I have tried removing the always events so it is just the new daypart event but that didn't seem to work either.
Am I do anything wrong or is there an issue in my config? Thank you in advance!