Creating a Quotation
You can create a quotation and save it as .pdf file to your account. In this solution you'll see step by step how to do that.
First you'll need to go to Shop page. Then select a product, in this example we'll buy Xibo for Android licences. As you can see on the screenshot below.
I entered quantity that I want to make quotation for, then click blue "Buy" button. This will take you to next page with summary of your order, then if all of the details are correct and you agree to the terms on each item, you'll need to click green "Checkout" button as shown below:
On the next page you will see new window looking like this with all your details that will be added to the quotation/invoice.
You'll need to enter your billing details including your VAT number if you are a UK/EU Business. Please be aware that VAT numbers are verified with the VIES registry and should be entered without your 2 digit country prefix.
When everything is entered correctly click on the green "Payment" Button. You can also see information on a bright blue background below the Order summary, that you'll be able to save this order as a quotation on next page.
The final page is shown below, from here you can Save your order as a Quotation (Save button) or proceed with purchase - pay online via Card or PayPal or save it as an invoice for bank transfer details.
After you click the "Save" button, you will see the following form, when you can make the final decision what you want to do with this order: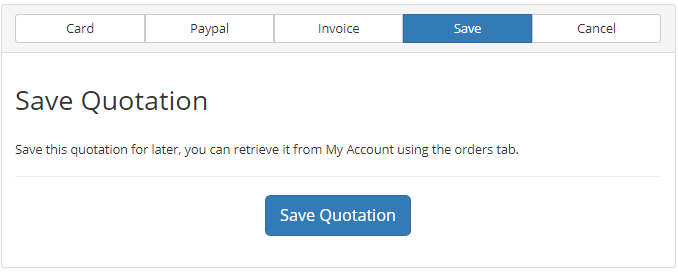 When you click Save Quotation, it will be saved in your account. You'll be also taken to your account page from where you can download saved quotation as shown below.
Click the "Download PDF" button, to download your quotation as a .pdf document.
Similar if you've requested an invoice.
Accepting a Quotation
if you are happy with the quotation, you can go to "My Account" page -> Orders tab, select your Quotation then click "Payment" button and convert it into an invoice. Which you can then pay online or via Bank Transfer.