The Xibo customer portal contains all of CMS Cloud Instances details and is the central location for managing all CMS Cloud Instances. It is accessed using the "Cloud Instances" card on My Products page.
In this solution you will find detailed overview and instructions about every option accessible on the Cloud Instances page.
Viewing your accounts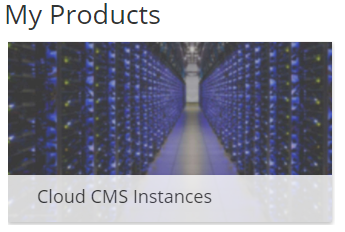 After you click on "Cloud CMS Instances" you will see all of your Cloud instances, information about them and you will have an option to Open CMS, Add display slots, Settings, Request Upgrade, Remove display slots, Add new Instance.
Each CMS Instance is represented with a card showing basic information about it the Instance: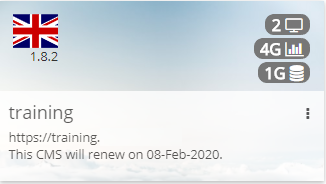 You can click on the card to reveal action buttons: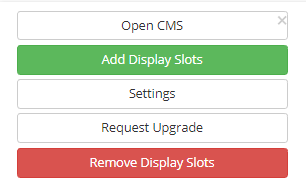 As the last card on this page you will see "Add CMS Instance" button, which will let you add new Instance to your cloud instances.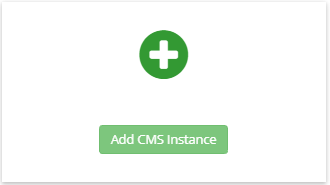 You can click on your CMS Cloud Instance and then access Change Package and Settings tabs. Each option is detailed below.
What details am I seeing?
Flag representing hosting server
Below the flag there is CMS Version.
and then CMS name, address and renewal date
Icons on the right of the card mean:

number of display slots in the CMS Instance


Monthly Bandwdith allowance


Storage
Demo accounts
When you start with Xibo and want to test our CMS Cloud Instance, you're able to use 14 days free demo account. You will receive full product without any restrictions other than restriction to 2 display slots.
Demo accounts expire automatically after 14 days and are deleted shortly after that, if you are interested in using our CMS Cloud Instance after that time you will have to buy it for £1.20 per display slot per month.
We have an article to help you though this process here.
Adding display slots
When you click on 'Add Display Slots' you will be presented with new window where you can add display slots to your CMS Cloud Instance.
Adding more display slots will increase your storage/bandwidth allowances.
The price is £1.20 per display slot per month, price will be calculated pro-rata to your CMS renewal date.
Settings
After selecting your cloud instance and clicking on Settings tab, you will open new window, where you can change settings regarding Automatic upgrade, Account renewal.
First option "Automatically Upgrade this instance to new Minor Versions". This option is ticked by default, Minor version Upgrades i.e. for Version 1.8 Minor upgrades are 1.8.1 1.8.2 and so on. It's on by default because the minor versions contain mostly bug fixes, improved security, changes that most users will definitely want to have.
Second option "Renew this CMS Instance when it expires" - When this option is ticked 30 days before your CMS renewal date we will send you a renewal invoice for your Instance.
If you're a customer that has monthly billing enabled and saved card, then monthly payment will be taken automatically each month.
Remove display slots option:
Delete CMS Instance option:

Upgrading the CMS
As new Xibo versions are released they will be made available to all our hosting customers. Upgrades are requested from the Cloud Instances Page and are actioned immediately. More information on requesting an upgrade can be found here.